---
Every year the opening of Conny's Creamy Cone is waited upon with baited breath. It is quite possible that the weather might be snowy, cold enough that your soft serve ice cream cone won't melt in the sub freezing weather, but it's the first promise of Spring in the North End Neighborhood of Saint Paul Minnesota.
At the Southwest Corner of the Dale St North and Maryland Ave West intersection, Conny's Creamy Cone has been serving up soft serve in 32 flavors, and Flurries (like DQ Blizzards except there's more stuff in them than DQ puts in Blizzards). They have almost everything DQ has except it is cheaper, and the line is longer in the Summertime than any of the nearby DQs.

Flurries: Banana Cream Pie, Banana Split, Brownie, Butterfinger, Chocolate Chip Cookie Dough,  Chocolate Covered Cherry, French Silk Pie, Fudge Nut, German Chocolate, Green Mint, Heath, M&M, Mocha, Oreo, Pina Colada, Reese's Peanut Butter Cup, Sea Salt Caramel, S'Mores, Snickers, Strawberry-Banana, Turtle
Small: $4.79, Medium: $5.59, Large: $6.39, Extras Add $0.99
Dip Cones:  Chocolate, Butterscotch, Cherry, Dip of the Week, Crunch (the Flavored Cones can't be dipped as they are too soft) 
Cone Cost: Baby $2.89, Small $3.49, Medium $4.19, Large $4.59, Waffle Cone $4.89 (2023 Prices)
Cheese Curds: $4.45 (more than what you get at the State Fair)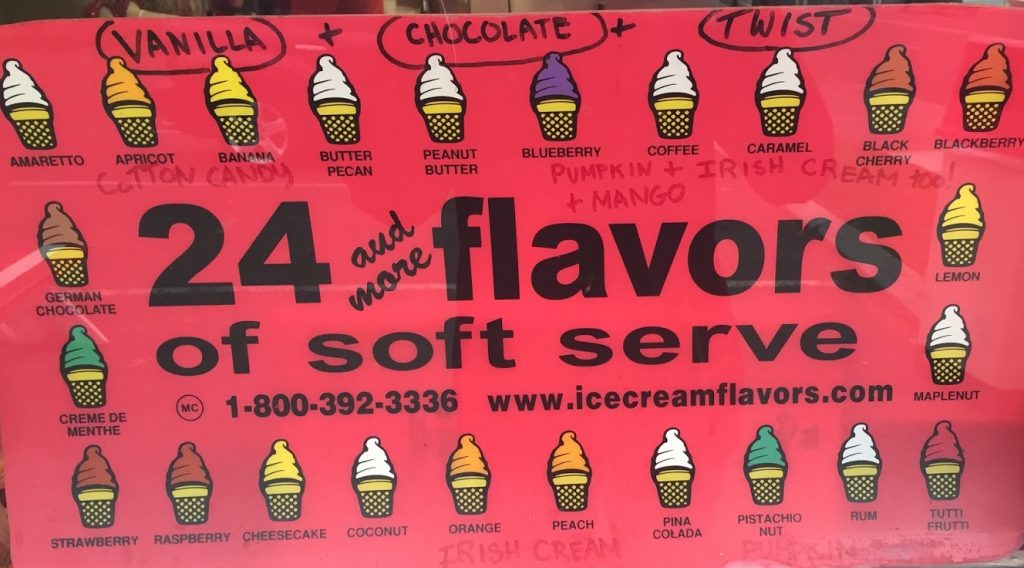 32 Flavors of Soft Serve
Some people try to do the cycle of trying every flavor of Soft Serve Conny's has during the summer. It's hard to do when you're on a diet. With limited parking around it you can park a block or two away and get some exercise to work off a dip cone, Flurry, or a flavored cone.
32 Flavors of Conny's Soft Serve: Amaretto, Apricot, Banana, Blackberry, Black Cherry, Blueberry, Butter Pecan, Cake Batter, Caramel, Cheesecake, Coconut, Coffee, Cotton Candy, German Chocolate, Irish Cream, Key Lime, Lemon, Mango, Maplenut, Mint, Orange, Peach, Peanut Butter, Pina Colada, Pistachio, Pumpkin, Raspberry, Rum, S'Mores, Strawberry, Tutti Fruiti
Cone Cost: Baby $2.89, Small $3.49, Medium $4.19, Large $4.59, Waffle Cone $4.89
---
Conny's Under New Management–Her Nephew
You may have wondered about the origins of Conny's and have stumbled upon this letter to the editor from Conny's nephew Thomas McCullough, from November 4, 2020, "An October like no other." 
Thomas McCullough explains in his letter to the editor that his Aunt Conny McCullough, bought Creamy Cone 25 years prior to then (that would be 1995). He says she bought it not to become rich, or to open up franchises, but to own a place that would provide joy to the community from a friendly face at an affordable price.  Prior to purchasing the shop, Thomas worked for about 10 years there and it was a great place to work as Conny was someone who cared about her employees. She understood the flexible schedules of the employees and knew their birthdays to give them the day off without them asking her.
Conny closed the shop for her last October in 2020. Thomas' first opening was in March 2021
Never Closed for Covid
During the time of Covid lockdowns, Conny's Creamy Cone never closed down. Since they are strictly a take out eatery they were allowed to stay open. One can only imagine they were still providing joy to their customers as there wasn't much joy for people to look to during those dark times.
We thank them for that.  We like to support the area businesses inside and on the edges of HD 66B, so we gather the menus of area restaurants and bring them to the Republican Caucuses in the Minnesota State House & Senate. It isn't hard to get them to go to Conny's, many of them already knew of its existence.
Conny McCollough's dream of bringing joy to St Paul, and surrounding suburbs from a friendly face at an affordable price has been realized.
Thank you.
---
This post was not authorized by anyone, nor do we get any sort of compensation for posting it. ~~ admin